While we saw a couple of new conventions in town, I was unable to attend Congregation because of commitments to Constellation in Lincoln. Nor was I able to attend O!Comicon since I was in Orlando for the DisneyWorld Star Wars Weekends, I'll talk about that trip next week.
BritishFest
moved venues. They made use of the MidAmerica Center in Council Bluffs where they could have many more panels in 2015 and more guests. In addition to Mark Ryan returning, they added Adrian Paul from The Highlander TV series, and
Simon Fisher-Becker from Doctor Who to their lineup. All the guests and fans had a wonderful time. The prop room was expanded and room was made available to the Steampunk Society of Nebraska who made fantastic use of it. While there were problems with the facility; the air-conditioning was turned off so they could lay new carpet, a really dump move by the management staff of the center. The main problem I had was in the lack of places to just sit around and talk with other fans but then the facility was not designed for that. Overall I saw no major hiccups with the actual convention which is a testament to how well the staff did their jobs.
OSFest was again held at the Ramada Convention Center with a lineup of local guests. The IKV Raptor's Heart ran a large amount of programming this year including: Klingon Jeopardy, The Great Tribble Hunt (or Tribble dodge ball, Mok'bara Morning Exercises, Klingon combat, crafting workshops, and more Klingon food. We also ran a film festival in the fan area of the various Star Trek fan produced programs. Jim Arrowwood ran another Dune panel, this year talking about the Fremen. James Hodge presented a few Doctor Who oriented events. And late Saturday night we honored the memories of Leonard Nimoy and Patrick Macnee, who passed away in 2015. It will be a shame if this convention passing into obscurity as it had tried to be a platform for many different types of Science Fiction fandom.
AnimeNebrasKon was CROWDED! The downside; it was hard to get from place to place. The upside; tons of great people to interact with and every panel the IKV Raptor's Heart did was very well attended. And Klingon Speed Dating had a very enthusiastic turnout, stuffed animals flew for the entire hour, as well as much poetry being read. A lesson I have to take from our participation there is to schedule Klingon Jeopardy for at least 2 hours with time ahead of it and after it to setup and te4ardown. It is my understanding that they will be moving facilities next year, I hope they find one they have room to grow in because they just keep growing.
Last year also saw the
opening of a new cinema palace in the Omaha area. The

Alamo Drafthouse Cinema (

12750 Westport Pkwy, La Vista, NE 68138)
opened with an attached brewpub available for its patrons but they also have

a lobby that boasts some of the best photo opportunities in town for Star Wars fans. They have a working model of the Death Star right above the ticket counter that is activated by the fully functional Emperors throne in the lobby. Even a couple of side panels are available to give you that perfect Imperial backdrop. The theater had its official opening on November 2nd with a large contingent Star Wars characters from the CentralGarrison of the 501st and members of the Rebel Legion to help provide patrons with those photo opportunities.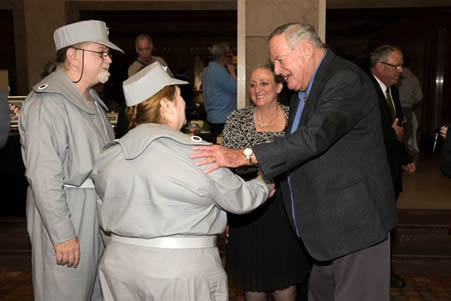 The classic 1956 movie that launched such TV and film franchises as Star Trek and Star Wars came to town. Bruce Crawford's Omaha Film Event in October, 2015 was Forbidden Planet. As part of that benefit for the Nebraska Kidney Association, Bruce brought in one of the crew members of the
United Planets Cruiser C57D: Robert Dix who portrayed Crewman Gray in the film. As well as a display of ship
models
and costume recreations. Playing to a packed house this was a grand way to see this restored classic that set the stage for a lot of the science fiction we have today.
And of course, there was finally a new Star Wars movie this year. With the 501st and Rebel Legion helping to provide color for the opening weekend at both the Alamo and Aksarben Cinemas.